Concept of the Month -- October-November 2014
---
New Paperback Edition of Inside the Criminal Mind
Publication date: November 4, 2014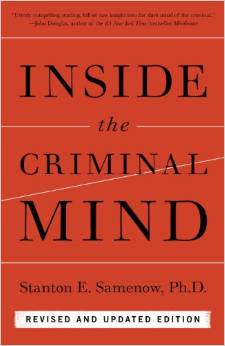 Comments from readers of earlier editions:
From parents:
"After reading Inside the Criminal Mind and [then] reading aloud passages from this book to my family, we were amazed beyond words how you could have known our family so well. I felt as if you wrote this book about us, about our lives with my teenage son. I personally want to thank you for writing this book."
"As I read Inside the Criminal Mind, I had to wonder if you were hiding in my closets as my husband I were attempting to raise our `problem child'. Reading your book was like letting light into a room that had been dark for a long time."
"We've read your book and our son is on every page."
"Your work has been a God-send."
From counselors:
"I found your book Inside the Criminal Mind. Your insights changed my life and how I taught and worked with my students."
"I smile when I see how our field has changed and how Stanton Samenow is becoming a critical part of our thinking."
Best friend of a crime victim:
"I have gained some peace from reading your book. I thank you for finding truth in how criminals are different from the rest of us and for sharing your knowledge."
From prison inmates:
"Thanks to your book, Dr. Samenow, my life has been changed forever."
When I read your book, it was a real eye opener. I would be nowhere near the point I am now had I not read that book and applied some of the principles to my thinking."
For more information and to order, click here.
Read related interview: Forbidden Fruits: A Journey Inside the Criminal Mind with Dr. Samenow
---

Return to Dr. Samenow's Homepage